Introduction
New Zealand is an amazing country divided into two main islands. The North Island is where we have the biggest city, Auckland, and the capital, Wellington. The South Island of New Zealand is quieter but very famous for its stunning landscapes and mountains. I lived in Christchurch for 2 months after having visited the South Island during a 20 days trip. Today I'll explain to you what you can expect to see, the best seasons to travel and my recommendations.
My first time in New Zealand and why I ended up on the South Island of New Zealand
I came to New Zealand for the first time in 2014. As a French, I could apply for a Working Holiday Visa, which allowed me to stay for a year with full working rights. I spent the first months in Auckland, working and surfing with my mates.
Eventually, in March, I took off with some friends to travel all around the country with a camper van (how surprising for a backpacker!). After a road trip of approximately a month (10 days on the North Island, 20 days in the South Island), I ended up in Christchurch for 2 months with my travel mates.
I was broke and I needed a job straight away. That's why I decided to settle there. Since the 2011 earthquake, the city is in a rebuilding process and needs hands. Luckily I found a job within a day and spent a bit more than 3 months on the South Island of New Zealand.
I'll explain to you which areas I visited, the ones that I recommend, and my best tips.
First part of the trip: the Northern part of the South Island of New Zealand
As I said before, I came to the South Island of New Zealand while doing a road trip all over the country with 2 friends, Florian and Lara.
We left Auckland beginning of March (end of summer here) and spent 10 days on the North Island of New Zealand, before taking the ferry in Wellington to the South Island, reaching the lovely town of Picton on the 18th of March 2015.
We spent 20 days on the South Island of New Zealand, which I think was a bit too short. Indeed, even though the country is pretty small (compared to the big brother Australia), there are a countless number of things to see or to do!
As soon as we arrived, we drove west towards Nelson. We drove on Queen Charlotte drive through the Queen Charlotte Sound, with a mighty foggy weather…. Stunning! Especially the view at Cunnen lookout. We arrived in Nelson where we camped for $6, right next to the sea!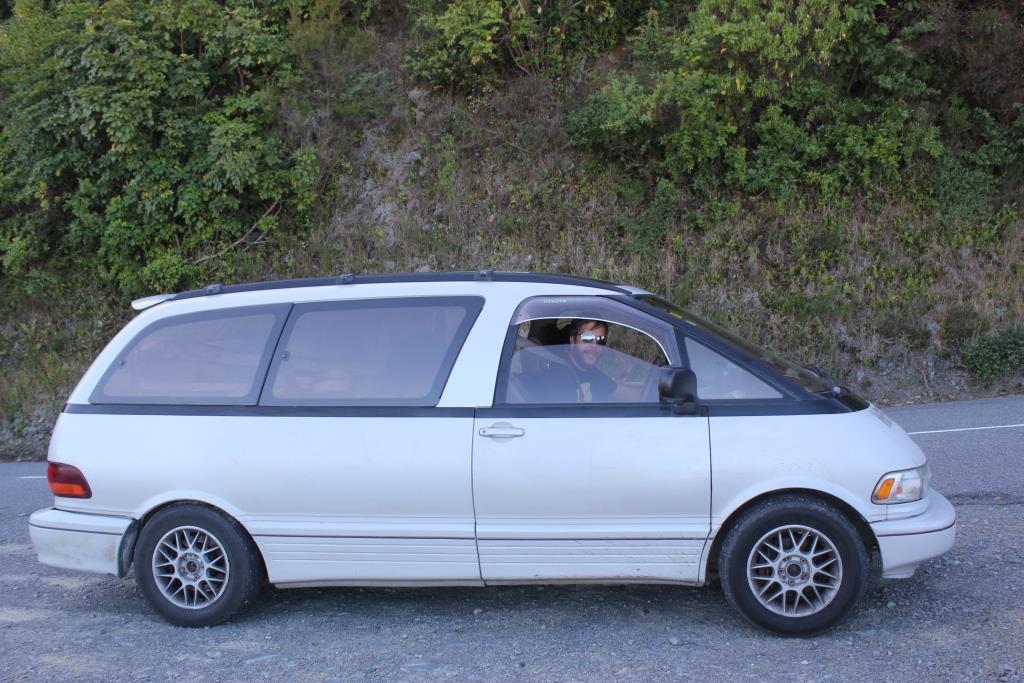 The day after we decided to do a walk in the legendary Abel Tasman National Park. The national park is located close to the city of Motueka.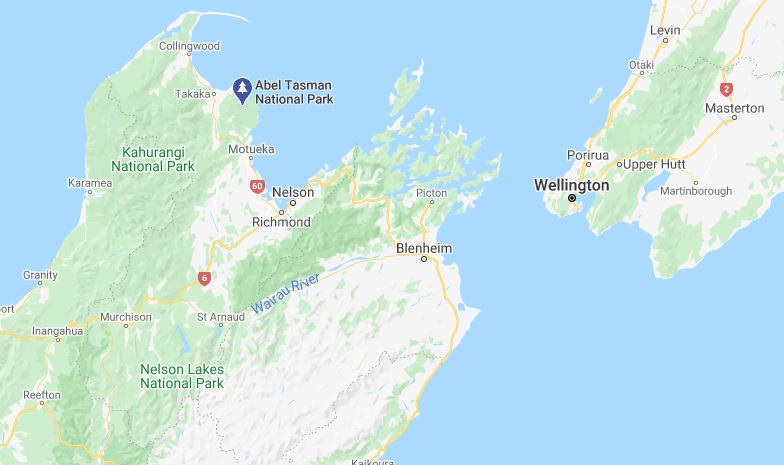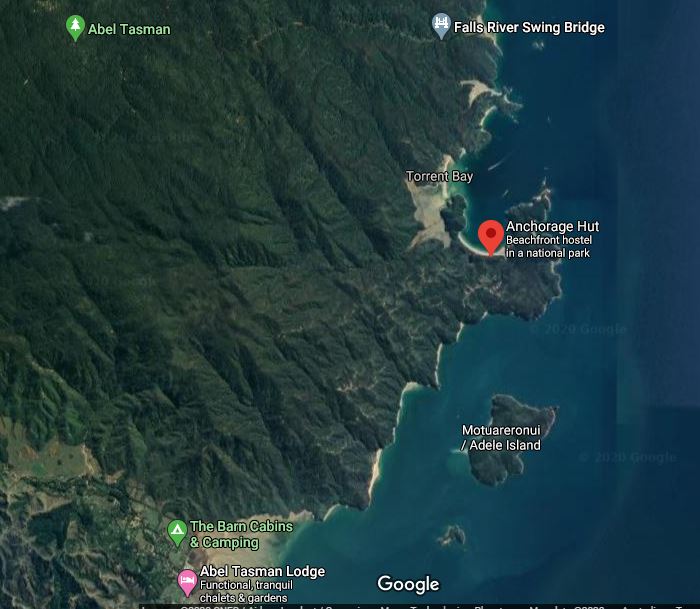 We went for an all-day hike, with picnic and water, staring from Sandy Bay. It was a wonderful walk, although it's not a loop. Which means, we walked 12 km up to Anchorage Point and back to our starting point.
It was an amazing walk, going through the bush but also passing by some stunning beaches! Flo and Lara even went for a swim. The water is pretty warm here: 20° celsius in summer. The walk back was a bit boring on the way back though as we walked through the same landscapes.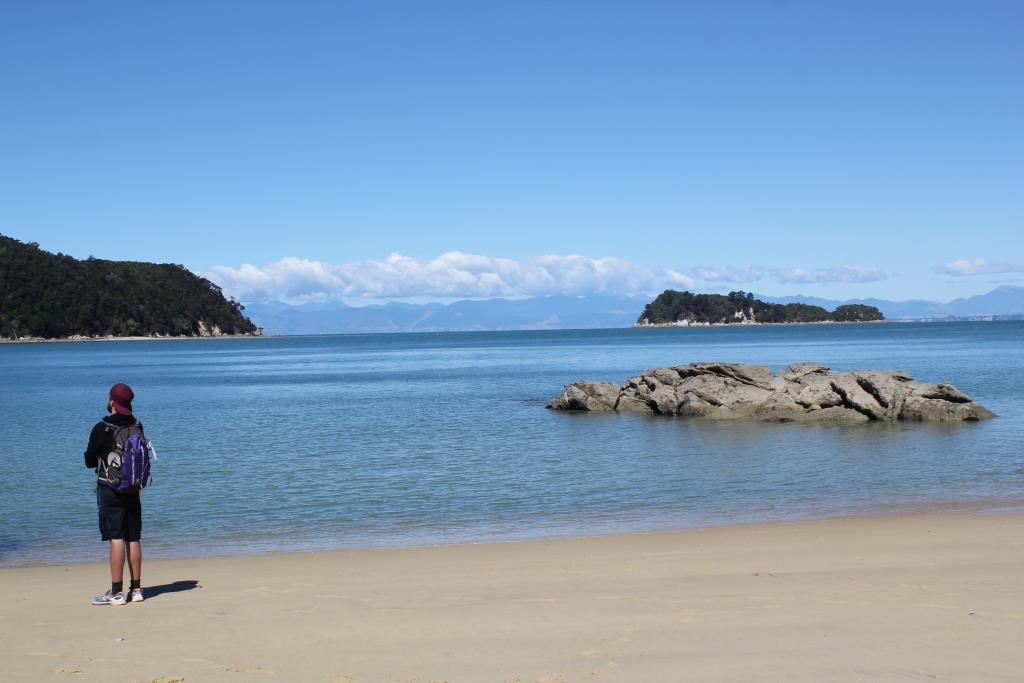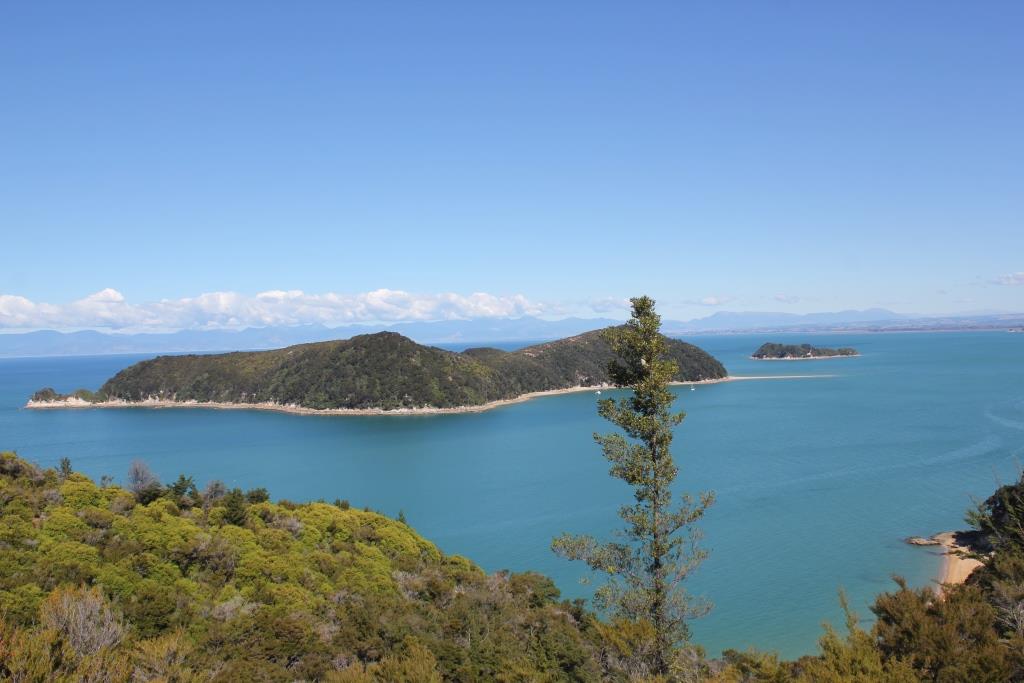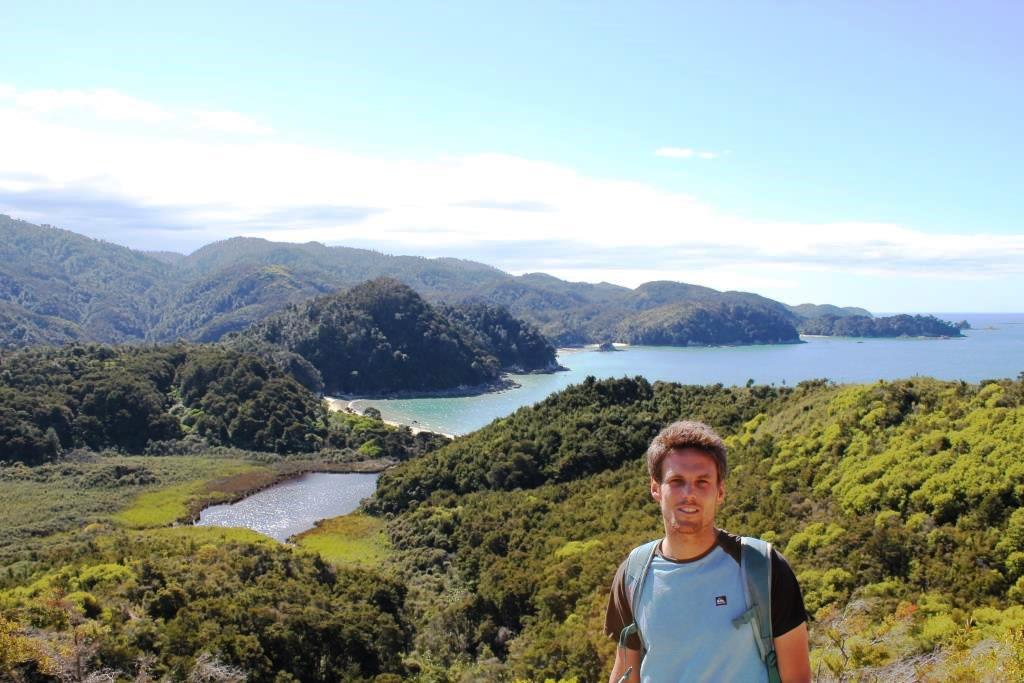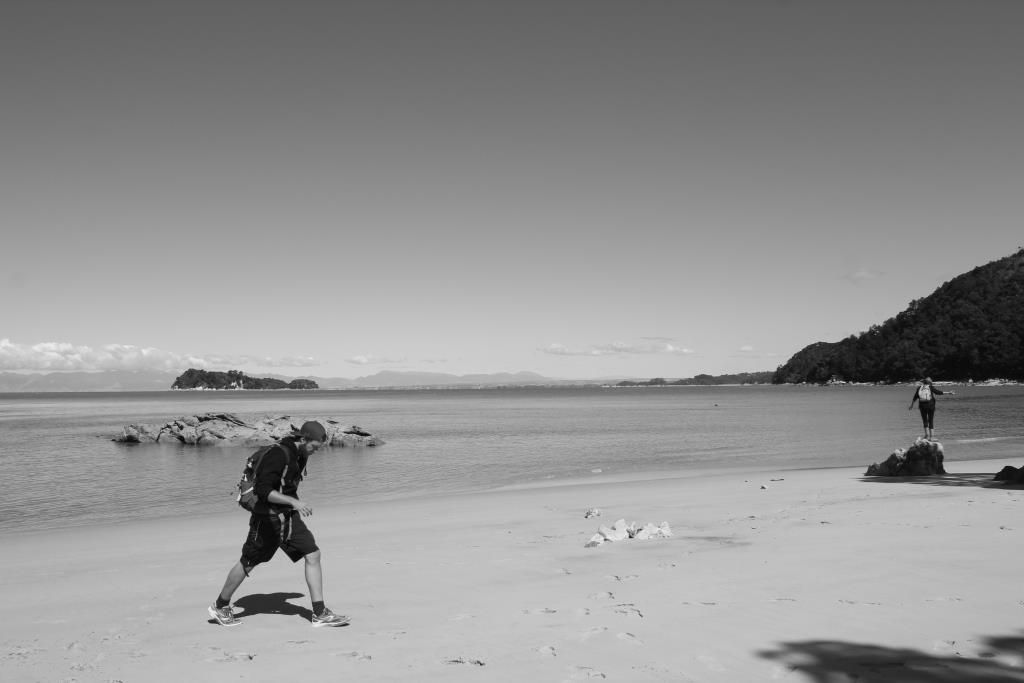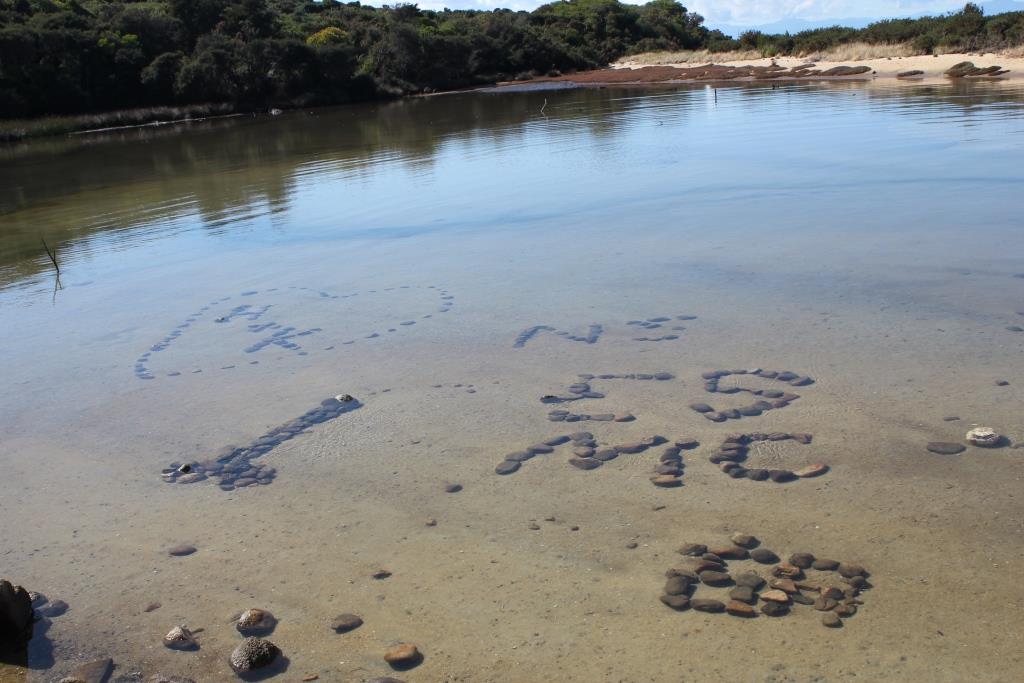 You have different options here:
You can go for a walk for the full day. As explained above, the issue is that you have to take the same track back.
You can do a 4 -5 days hike if you're equipped, which would be a full loop in this case. But it's quite challenging and you'll have to carry all your equipment, food included. It can weight easily 20kg +
You can go one way, hike for 1-2 days depending on what you want and take a water taxi to go back to the beginning of the track. There are a lot of them around the area.
A couple of my friends decided to take another option and to hire a kayak. They had it for two days, left it at a specified point, and walked back to the parking. They saw a lot of seals while kayaking, so I reckon it's the best option if you have more time and don't necessarily want to hike for 4 days.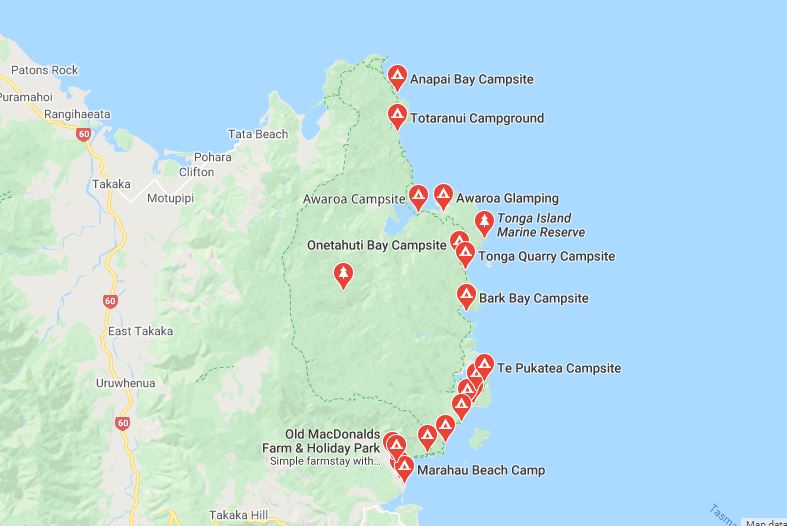 The East coast: Bleinheim and Whites Bay
We then drove back to Nelson to spend the night in the same campground, and hit the road back east towards our next stop. On the way back we had the chance to drive through the Queen Charlotte Sound again, with a beautiful weather this time!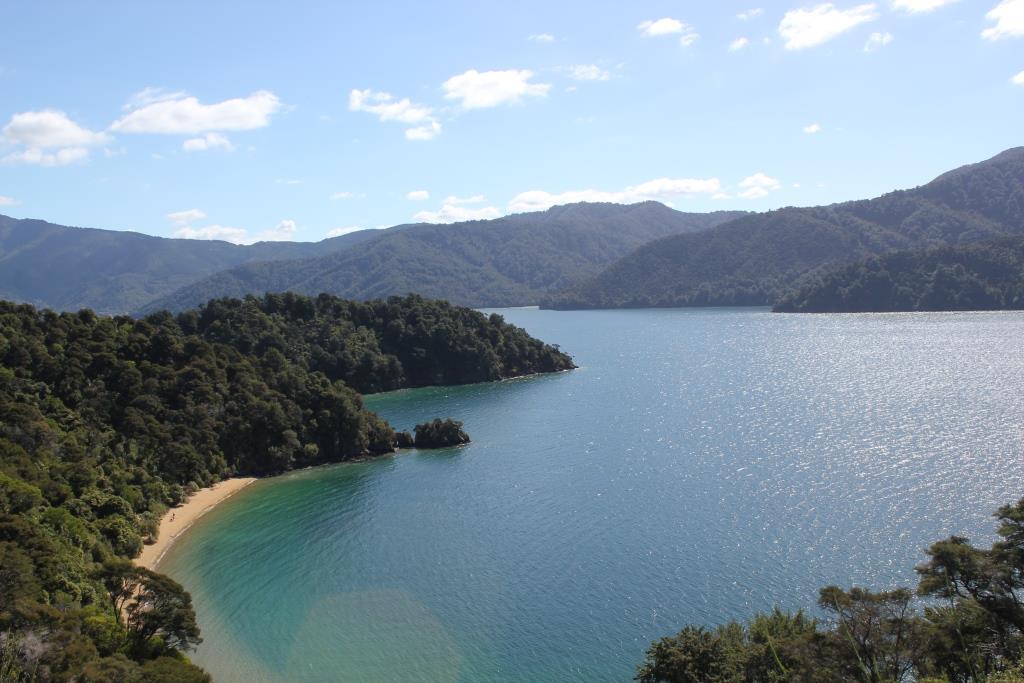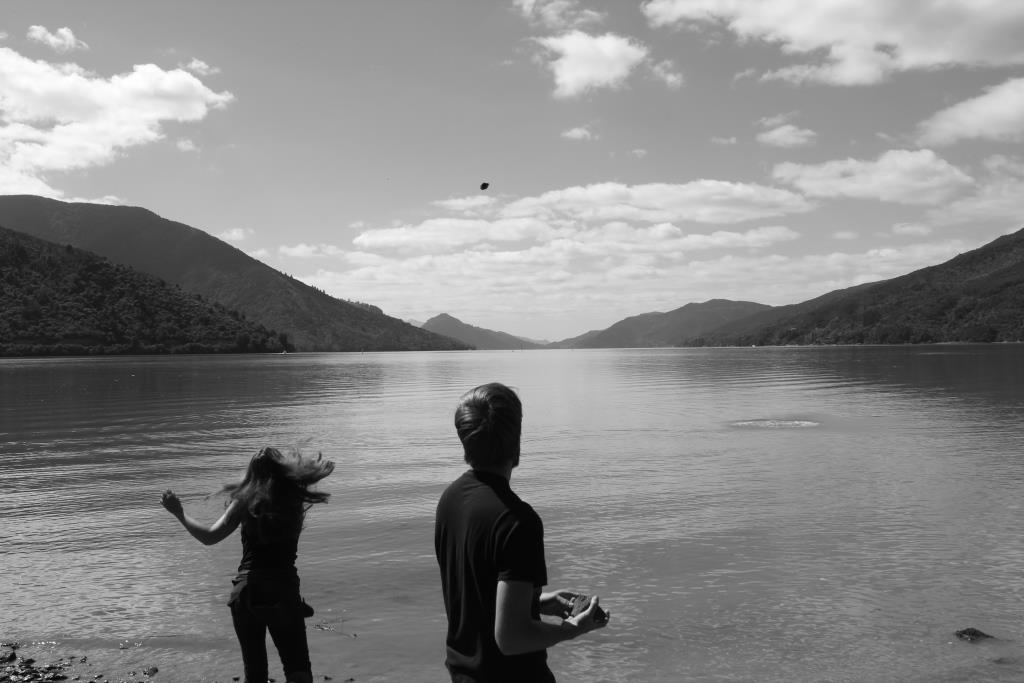 We drove to Robin Hood Bay, where there is a campsite, which is located in front of the beach, east of Blenheim. I surfed there (or tried!) huge waves produced by a cyclone that hit the North Island (easily 3 meters). There are two campgrounds there: Robin Hood is free and the second, easily accesible, in Whites Bay costs maybe NZ$6 per person per night.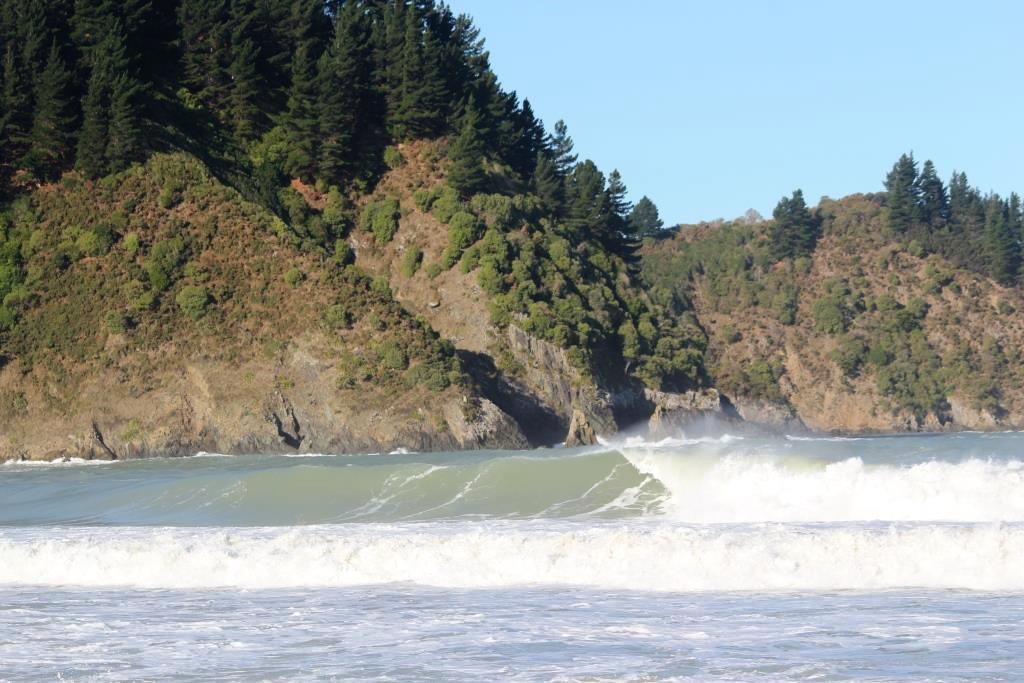 Whites Bay is more protected from the swell and pretty popular. The campground has more facilities there. The water temperature dropped a lot compared to the North Island and just Abel Tasman! I think the water was at 17° celsius!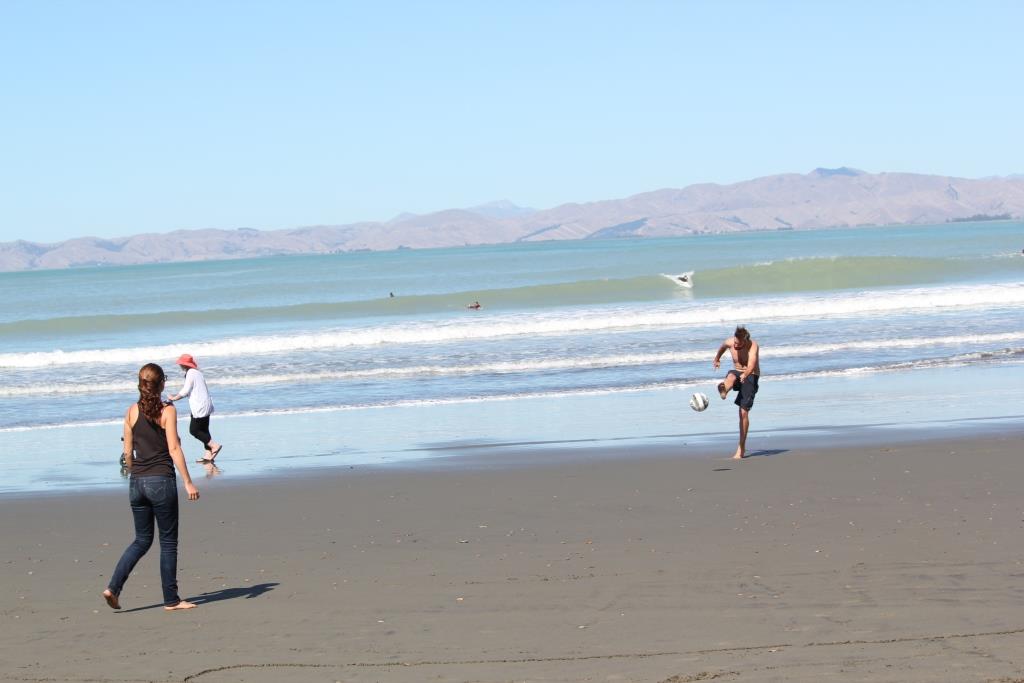 For the story, I forgot my DLSR camera on the beach in Whites Bay, behind a log. I was lucky enough that a woman picked it up, asked everybody in the campground if they had forgotten a camera, and finally went to the Ranger's to drop it. She even called the police to record a lost item! I You can't imagine my feeling when I realized I forgot it on the beach, and when the ranger hanged the camera to me. I love New Zealand!
Back on the road, we stopped in Bleinhem (pronounce Blenhum!) on the way to do a wine tasting. The wines of the Malborough are worldwide famous! Between the Sauvignon Blanc and the Pinot Noir, you can have a cracking day with some good food! The weather is pretty good there as well and the sun was shining.
Kaikoura: lobsters, dolphin encounter and great surf
We then drove to our next stop: Kaikoura! A world-famous stop for lobster eating, whale watching, and dolphin encounters.
We found a campground next to the sea, in Okiwi Bay, but also behind the train tracks…Not the easiest spot to fall asleep.
Quickly we realized that there are very few free campgrounds on the South island of New Zealand. If it's owned by the department of conversation, you'll pay generally NZ$6 per person. But if you go to a nice "holiday" campground with showers, kitchen, pool…it can be easily $25 per person per night.
Luckily for me, Kaikoura is also famous for its amazing surf breaks, such as Meat Works and Clarence Point. I surfed tiny but clean silk waves!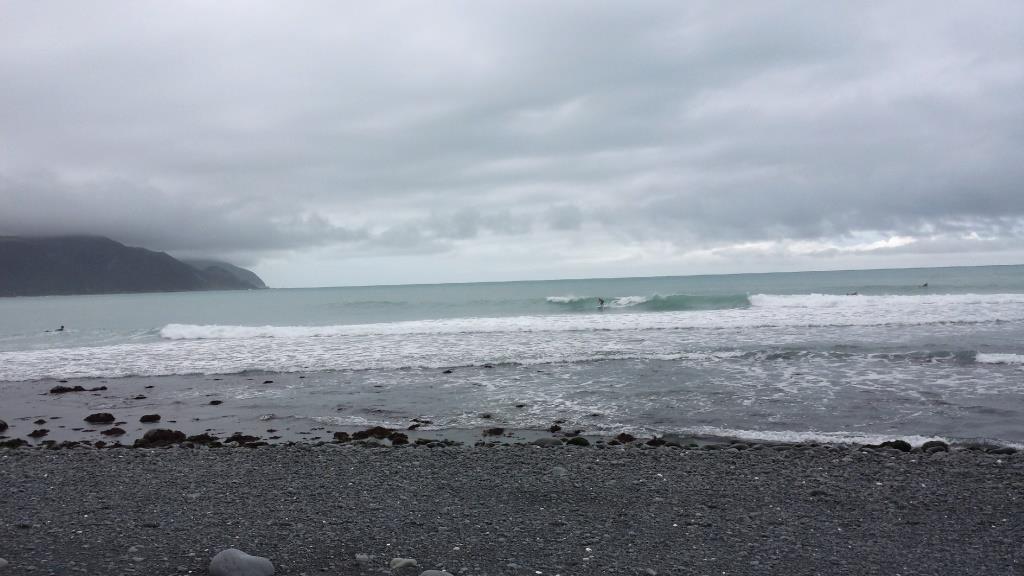 Kaikoura is a lovely town! We had breakfast there at the Cray Spot and enjoyed the quiet but peaceful atmosphere.
We went quickly to the library (as usual) to recharge our phones and use the wifi. But this library was clearly against backpackers with no plugs and the wifi at $3 the half hour!
We decided to book a dolphin encounter, as there aren't that many places in the world where you can do that. I think we paid NZ$130 each. It was worth it! You literally swim with dolphins, in their element! Which means that if they don't want to see you there is nothing to do.
The crew was advising us to sing and whistle in the water to attract them, "be a dolphin"! And it worked! It was a fantastic experience. The water was a bit chilly (maybe 15°), which was fine with the wetsuits. But I don't think it's enjoyable in winter. We did it on the 22nd of March, end of summer in New Zealand.
After the encounter, we were on the deck, with a cookie and a hot coffee (essential!) enjoying the show of tens of dolphins juming off the water ad having fun, right next to some lucky kayakers!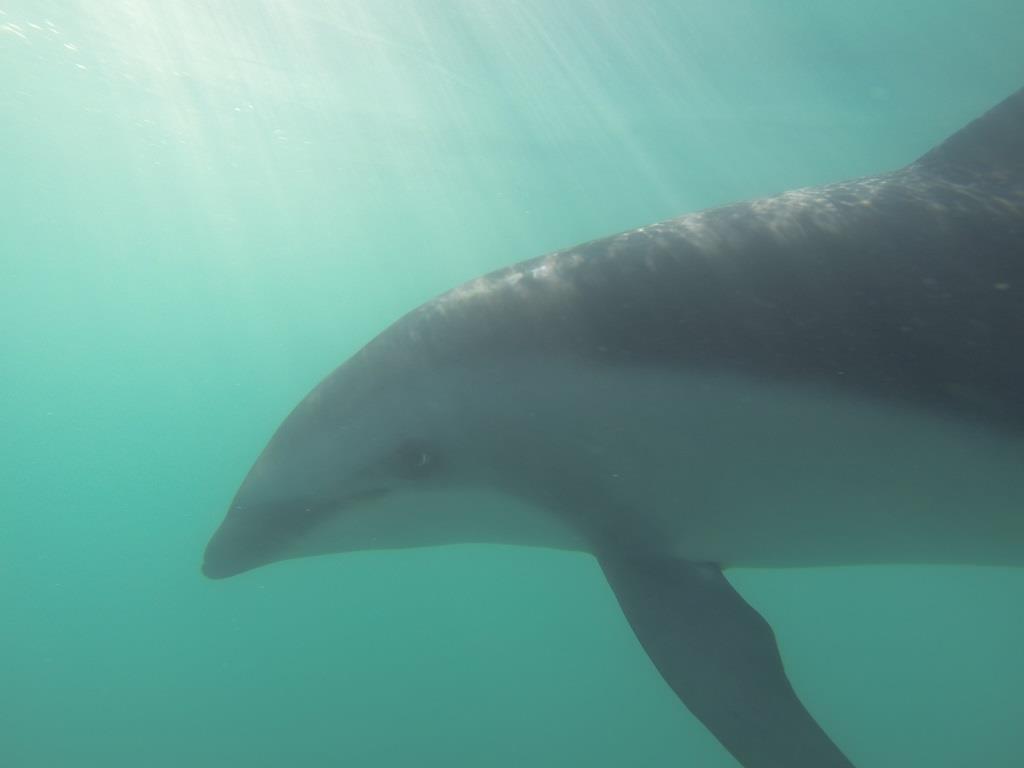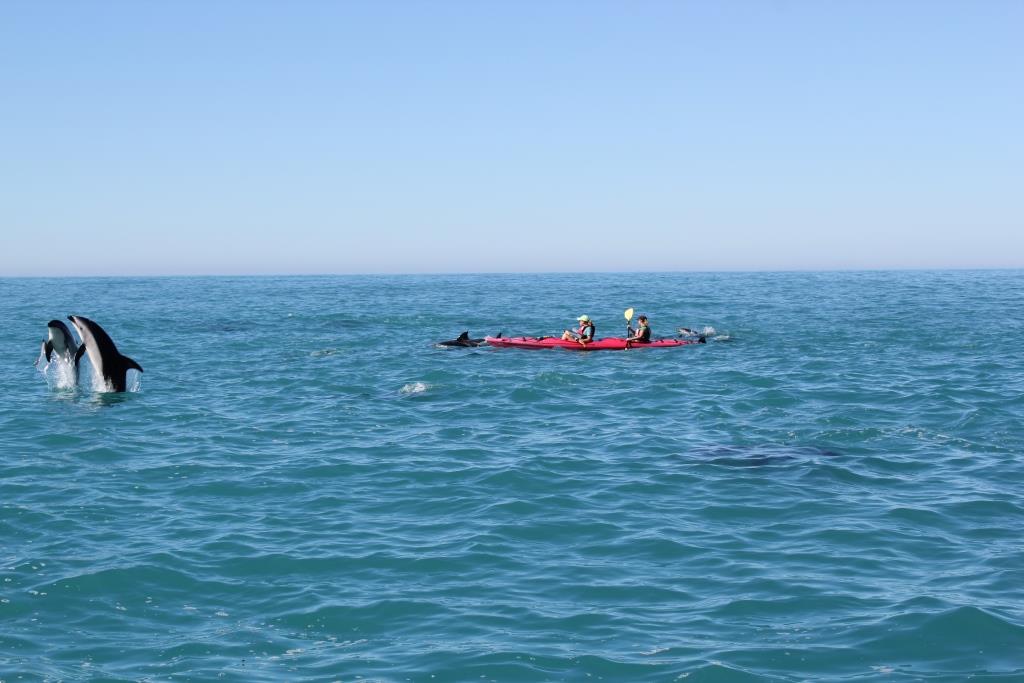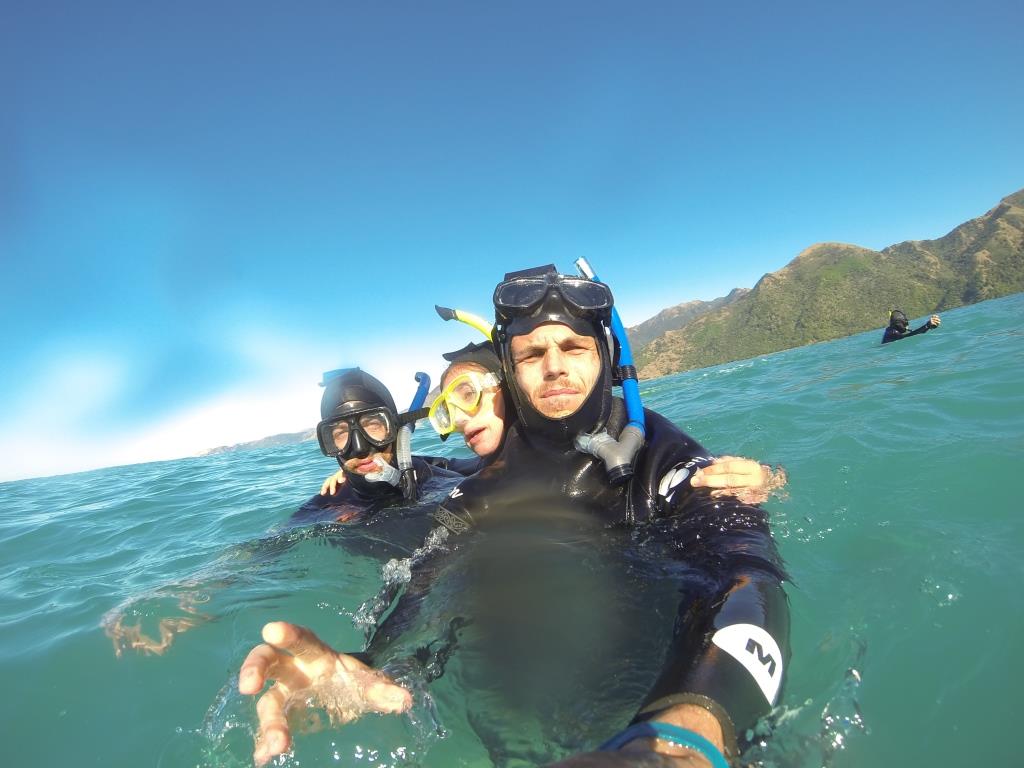 We also enjoyed the afternoon to go for a walk to spot some seals, and have a beer in town.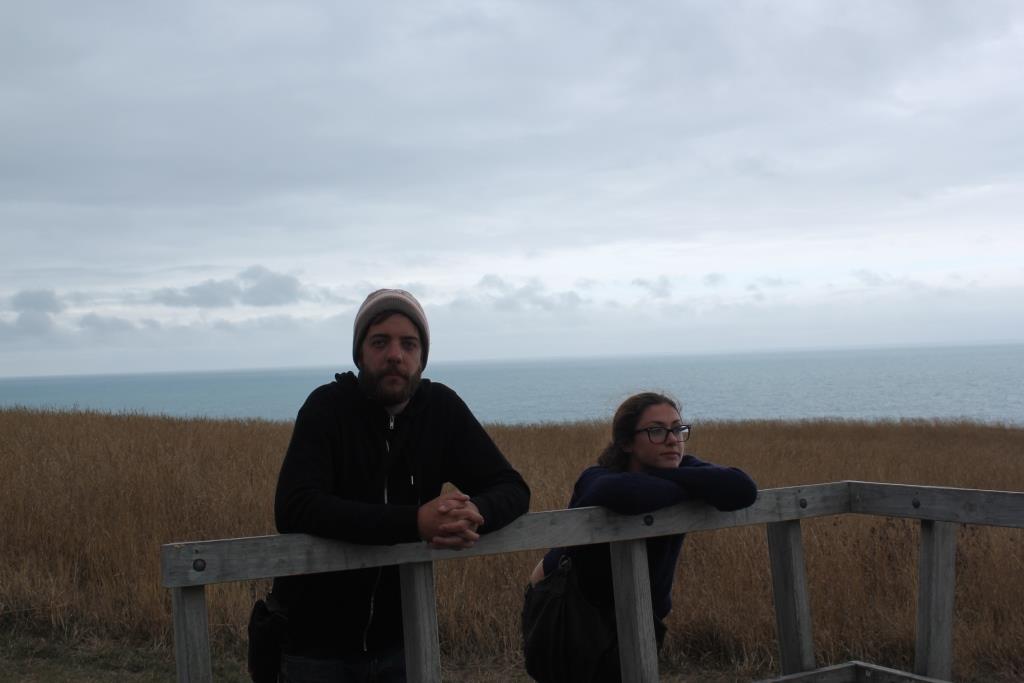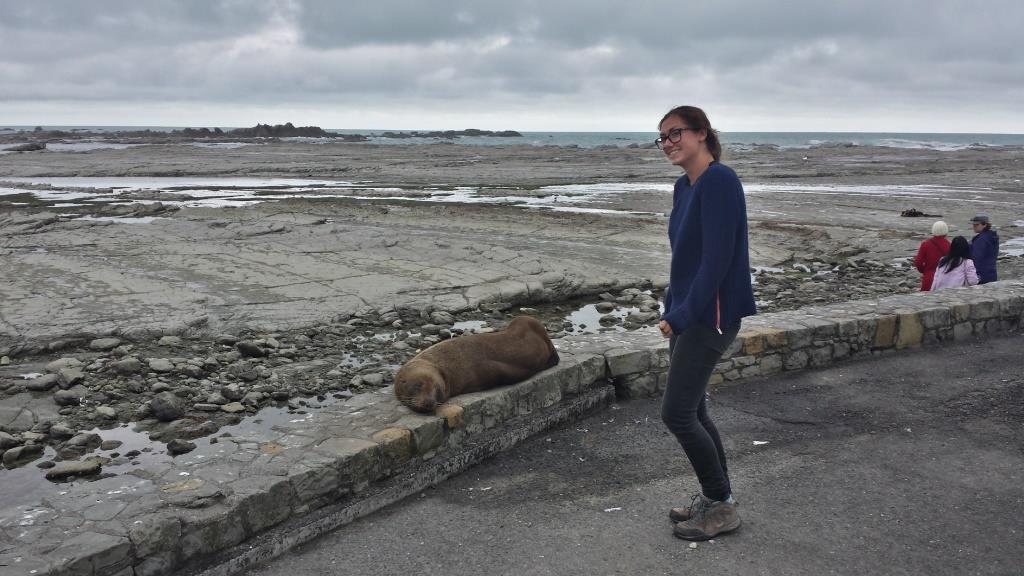 That's all for the northern part of the South Island of New Zealand! In the next episodes, we'll discover the middle part, with Christchurch, the Alps, Franz Joseph Glacier, Tekapo and Pukaki Lakes and Hamner Springs! And then, the southern part, with Queenstown, Wanaka Dunedin and much more!